Quick Search Pre-Employment Screening Solutions
Quick Search Has the Expertise You Need
Hiring the right employees is critical to your success. Quick Search's quick and convenient background screening service helps your business ensure that each and every hire meets the unique quality standards you require. Our experienced team works with you to customize the most comprehensive and accurate report – meeting your company's needs, every time.

Industry Experience
25+ years of Consumer Reporting Agency (CRA) industry experience
5,000,000+ searches performed
30+ expert background researchers

Comprehensive Network
Extensive criminal and/or civil court search capabilities in more than 3,000 counties
30+ Applicant Tracking System (ATS) Integrations including Taleo, HRsmart, ICIMS, Bull Horn, and many more

Configurable Solution
Background screening packages tailored to your needs
Serving businesses of all sizes
No upfront or monthly maintenance fees
On-going Compliance Support
Due to the complex and increasing regulation at the local, state, and federal levels, and a recent increase in litigation surrounding the FCRA and EEOC, it is crucial for a company to partner with a background screening vendor that provides full compliance support. Quick Search will work with your company to ensure you are always compliant with the latest requirements.
Find Out More About Our Services
See What Some of our Incredible Clients are Saying…
"The City of Dallas has been working with Quick Search for several years.  They are reliable and customer service oriented.   Any questions about backgrounds have been answered with quick responses.  Everyone we work with at Quick Search works hard to make sure we have timely results."
"We will stay with Quick Search and recommend it to other companies because they get the process of backgrounds completed quickly and the team is always there to help when needed."
"Quick Search is always on top of everything, providing good communication and making sure all our requests are completed in a timely manner. Account management is excellent, great customer service, everything managed with care and they offer everything that we need even if our needs sometimes change. We never had any issue with Quick Search and I would recommend this company 100%."
"We've used Quick Search for our background checks for the last 8 years.  Their reports are accurate and concise and the service is fantastic.  We usually get our reports within 24-30 hours so we're definitely satisfied customers!"
"Their customer service and dedication to our needs can only be classified as exceptional. They have consistently provided us with efficient and fast turnaround service to our Background Screening needs, in addition, we never have to follow up on any of our questions/concerns as they are answered either immediately or within 24 hours. If you are looking for Full Suite Background Screening vendor, then Quick Search should be at the top of your list."
"Triumph Professional Staffing uses Quick Search to provide background services and drug tests, and I am extremely pleased with the quality of services they are able to provide, I have used their services for 20 years and can recommend them without reservation to others in need of similar services."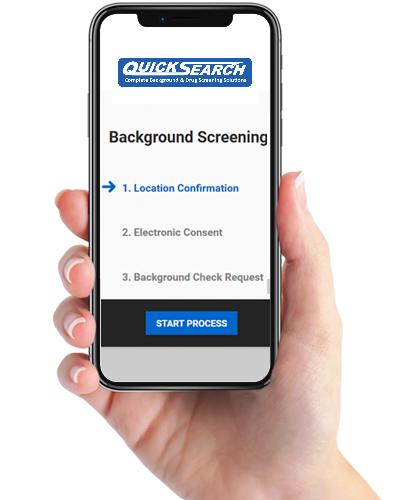 In today's market, you need great candidates more than they need you.
With our custom, applicant-focused mobile screening portal, Quick Search helps make sure you can start the screening process now. Faster speed to hire for you – better applicant experience for your candidates.
Don't lose another candidate due to inconvenience.
Our platform integrates with more than 30 Applicant Tracking Systems