International Background Screening Services
Efficient, Comprehensive, Compliant Global Screening Solutions
In today's competitive environment, organizations are sourcing talent from all over the world. We offer a full suite of global and international background checks – covering more than 200 countries and territories – for anyone working in the US who previously lived, worked, or attended school in another country.
Our International screening services are available in 200+ countries and territories, and are supported by a network of global offices and providers.
International Criminal Records Search
Education Verification
Employment Verification
Our International Screening Partners
Quick Search partners with the leading international screening partners to ensure you can properly vet candidates.

Global Screening Coverage
Together with our partners, we help companies assess candidate background screening data points from across the globe. While data availability varies by country, we work to find information across Asia, the Middle East, Oceania, Africa, Europe, the Caribbean, and North and South America.

Fast & Accurate Results
Because we partner with 3 of the best international screening partners, we enable clients to screen candidates quickly and accurately across diverse screening requirements and unique country laws.

Seamless Ordering
Easily access background screening packages from our online portal – from your computer or your phone – just as you would order any other candidate screening package.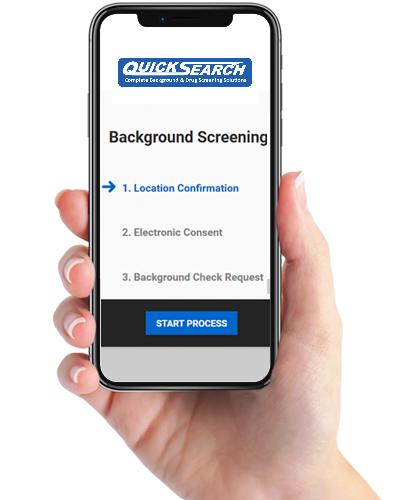 In today's market, you need great candidates more than they need you.
With our custom, applicant-focused mobile screening portal, Quick Search helps make sure you can start the screening process now. Faster speed to hire for you – better applicant experience for your candidates.
Don't lose another candidate due to inconvenience.
Our platform integrates with more than 30 Applicant Tracking Systems