Custom Background Check Solution Packages
Background Check Solutions for Any Size Business
Over the last 25+ years Quick Search has been working with businesses across the country to make hiring faster and easier. Our optimized background screening solution provides our clients with results that are:

Consistently Fast & Always Affordable
Our industry experience dates back to 1991 – we know how to get the job done fast, right – and at the right price.

Compliant & Configurable
Our expert team directly supports our solutions – you can rely on us to provide assistance in reducing risk, no matter your requirements.

Mobile Enabled & ATS Integrated
It's easy to stay connected – our mobile, paperless solution is always at your fingertips and integrates right into your Applicant Tracking System (ATS). Share a great experience with your candidates.
Position-Specific Screening Packages
At Quick Search, we understand that a single background screening package approach won't meet the needs for all of your positions. During on-boarding, we tailor all the service packages you need available, ensuring that each screen you order meets your company's unique requirements.
Our optimized background screening process ensures that each and every candidate we screen is thoroughly vetted:


SSN Validation & Address History
Before the investigation begins, we perform a Social Security Validation to ensure your potential new hire is who they say they are. This search provides the address information we then need to auto-populate the appropriate criminal searches.


Custom Record Search
Next, we perform the required searches included in your custom package. This can include:
County Criminal Court Record History
Federal District Court Record History
State Sex Offender Registries
Motor Vehicle Records
Credit Reports
Civil Courts Record History
Regulatory Sanctions and Terrorist/Excluded Parties List
International Criminal Court Record History


Credentialing
Finally, we verify the experience and qualifications presented by the applicant. This can include:
Employment Verification
Education Verification
License Verification
Personal and Professional Reference Checks
Military History – DD Form 214 Review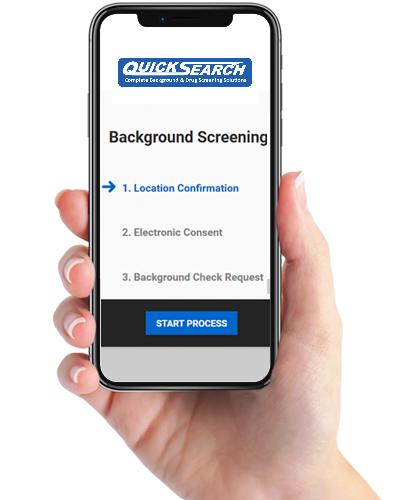 In today's market, you need great candidates more than they need you.
With our custom, applicant-focused mobile screening portal, Quick Search helps make sure you can start the screening process now. Faster speed to hire for you – better applicant experience for your candidates.
Don't lose another candidate due to inconvenience.
Our platform integrates with more than 30 Applicant Tracking Systems